Why mindfulness?
Do you want to take care of your mental health in these transition times? Do you feel tired and exhausted, or have difficulties concentrating with all that's going on? Do you get stressed by the overwhelming quantity of tasks and demands that you face every day? Are you wondering how you can find some peace of mind in the midst of the busyness of your life?
According to WHO, the COVID-19 pandemic has taken a heavy toll on the mental health of millions of people with close to one billion people suffering from mental illness in the world. Depression, burnout and anxiety have almost doubled in 2020 compared to 2019. However, if our attention rests a lot on worrying thoughts, chances are high that we spend most of our time in this alert state, which is deteriorating for our body and mind. On a longer term, it can lead to physical illness, burnout, depression or anxiety disorder.
It is therefore more important than ever to cultivate mental resources such as mindfulness, positivity and self-compassion – and learn how to ground yourself. Mindfulness can help you to adapt in this changing environment and to increase your resilience towards everything life sends your way.
Mindfulness Courses with Brussels Mindfulness
You can follow courses with us either through a live, online format (weekly session via Zoom), or join an in-person course in Brussels. Regardless of which format you choose, you'll have access to an online dashboard where all your course resources will be available to you.
The benefits of following an in-person mindfulness course
Taking an in-person mindfulness course allows you to feel connected to and surrounded by others, all the while learning to meditate or deepening your practice together. You will benefit from a nice location in the centre of Brussels and from the energy of meditating together.
Delicious organic teas will be offered at every session. You will receive an e-book and a syllabus in printed format. Should you have to miss a class we can set-up a hybrid session for you to follow online, or you can join that session in the next series (online or in-person).
To ensure your comfort and safety during our activities, we follow all recommended health guidelines set by the government.

The benefits of following an online mindfulness course
All our online programmes take place via Zoom, where you can log in from the safety and comfort of your own space. This allows you to interact with other participants and the teacher in a safe way without any health risks. Plus you can join our online programmes from anywhere in the world, no travel time needed, and have access to the recording in case you have to miss a session.
All our online sessions are live with interactive teaching and sharing just like in an in-person course. The online format does not alter in any way our ability to be present to oneself and to others, nor the depth, the richness, and the benefits of the practices and teachings.
Types of mindfulness courses
Among others, we offer mindfulness-based courses on the following topics:
8-week beginner's mindfulness course "Finding peace in a frantic world": learn how to feel less stressed and live more in the present moment
8-week positive neuroplasticity course: learn how to rewire your brain towards more happiness, contentment and resilience with the help of neuroscience and positive neuroplasticity
6-week Mindful@Work course: learn the 6 key competencies for truly thriving at work
8-week interpersonal mindfulness course: learn how to relate to others in a more mindful way, increase your presence and improve your communication skills. This is a follow-up course for people having followed the beginners course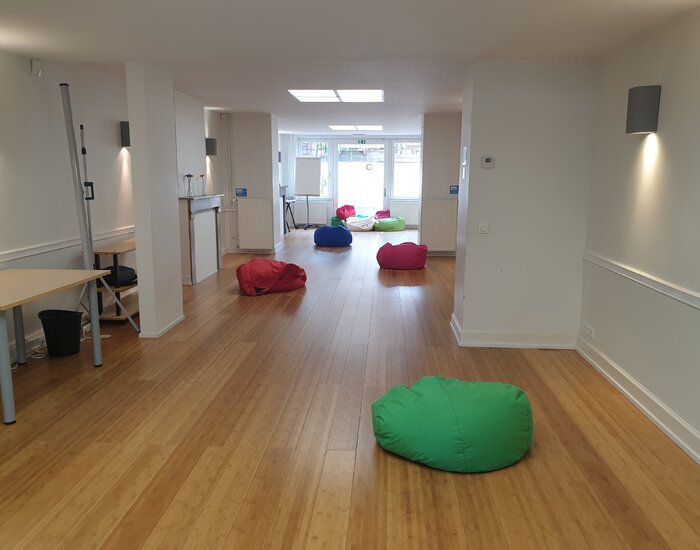 Features of the mindfulness courses:
Weekly group sessions of 1.5 to 2.5 hours
Lots of practical exercises to build mindfulness into your daily schedule without needing to invest extra time
Programmes based on the scientifically validated programmes
Course led by experienced and certified mindfulness teachers
In-between emails to deepen your learning
Lifetime access to more than 200 guided meditations by our teachers
We can organise the same type of course specifically for organisations. Contact us if you would like to bring an in-person or online course into your workplace.

About us
We believe that mindfulness skills can make this world a better place, not only because it helps to improve individual wellbeing, but also because it leads to wiser choices and more kindness in this world.
Learn more about our vision, meet our team of international trainers and check out our beautiful locations.