Cultivating inner resources in stressful times
In these shaky and stressful times it is more important than ever to cultivate mental resources such as mindfulness, positivity and self-compassion – and learn how to ground yourself. Mindfulness can help you to adapt in this changing environment and to increase your resilience towards everything life sends your way.

Are you living on autopilot?
Do you sometimes feel overwhelmed by all the demands and challenges you face? You may have a lot of roles to combine; being an efficient professional, a caring parent, a loving partner or friend, keeping in touch with your family, staying healthy and fit – the list never ends. All this requires a lot of planning and thinking ahead.
But even at times when you would like to wind down, your thoughts continue to race. It is very difficult to stop the worrying and overthinking, especially when we are bombarded with unsettling information. Therefore, you might not really be present for the people you care about or fully be in touch with your own body.
You may be in what is called the "autopilot mode", focusing on acting rather than being present. This can be truly exhausting because it triggers your body's stress system.
You are not alone. In our busy lives with so many stimuli and distractions, our stress system gets triggered much more often than it was designed to be. Add to that the constant solicitations of our devices which keep our body and mind in a constant state of alert and the current pandemic – all factors which contribute to building up chronic stress and fatigue.
Mindfulness offers ways for you to step out of this stressful autopilot mode and to build up inner resources of calm and focus instead.
Rediscovering the sources of wellbeing inside you
It is possible to find an alternative to the stress and struggle you are experiencing, even when the world is flashing red. There are deep sources of wellbeing within you – no matter how stuck, helpless or frantic you might feel right now.
Mindfulness helps you to rediscover your happiness, peace and strength.
How? By training yourself to live more in the present moment, rather than constantly thinking about the past or the future. By learning to ground yourself, to be kinder to yourself, to be more aware of your automatic behaviours and by taking good care of yourself, moment by moment.
A mindfulness training is built up around different forms of meditation that can be learned by everyone. Combined with insights from cognitive psychology and a set of attitudes, it is a powerful tool that prevents normal feelings of anxiety, stress and sadness from spiralling downwards into prolonged periods of unhappiness and exhaustion, or even burn-out or clinical depression.
We will be learning and practicing the art of embracing the full catastrophe. We will be doing this so rather than destroying us or robbing us of our power and our hope, the storms of life will strengthen us as they teach us about living, growing, and healing in a world of flux, change, and sometimes great pain.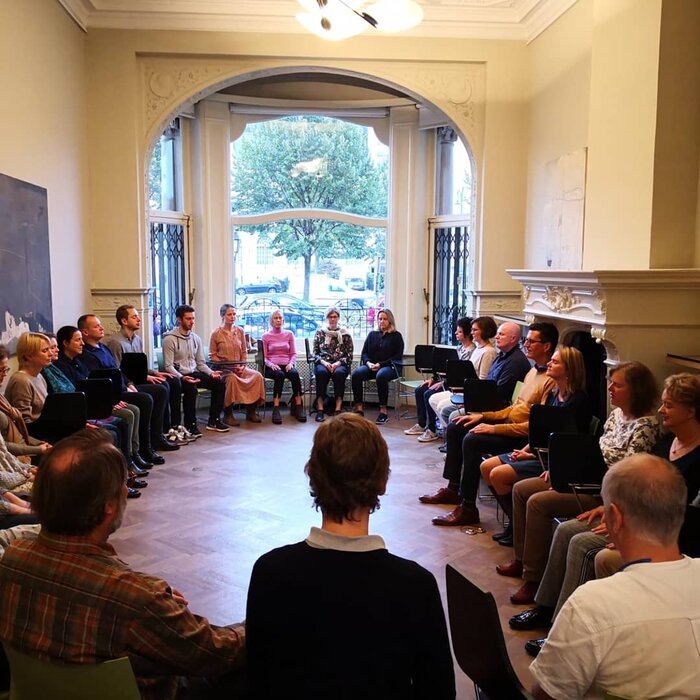 Feeling connected and supported by a strong community
Participants of our 8-week courses have shared that coming together online or in person at a fixed time over the course of a few months helps them to cultivate new habits and feel supported by a group of like-minded practitioners.
It is a moment to look forward to, a momentary break to focus on yourself and your own needs. That is why offering group courses and retreats is at the heart of what we do.
We are offering online and inperson courses in beautiful locations.
Rooted in science
Ever since the 8-week mindfulness programme (MBSR) was developed by Jon Kabat-Zinn at the University of Massachusetts in the 1970's, it has been thoroughly researched in clinical trials. Science has confirmed that committing to 8 weeks of practice, even if it is only 10 minutes a day, is enough to see the benefits for yourself.
Mindfulness doesn't only boost your happiness levels and reduce the impact of stress – it actually changes the structure of your brain for the better. It also strengthens your immune system and offers support in preventing cardiovascular diseases and cancer.
For an overview of the latest research, you can visit the website of the American Mindfulness Research Association (AMRA) or the Institute of Neuroscience and Contemplative Wisdom.
We also produced a video series called "mindfulness myths and misunderstandings" about what mindfulness is not. Feel free to check it out!
For youngsters
As young people increasingly struggle with mental health issues, especially recently due to the impact of the corona pandemic, it is important to learn these mental skills at an early age. The Oxford Mindfulness Centre has recently started a great website for young people.
Occasionally, we offer workshops for teenagers at Brussels Mindfulness, and young adults are welcome to all our activities. We also offer mindfulness trainings and workshops for schools and youth initiatives.
New: We have decided to increase our commitment for young people's wellbeing and happiness by offering discounted rates for schools and youth clubs.
Feel free to get in touch to know more.
About us
We believe that mindfulness skills can make this world a better place, not only because it helps to improve individual wellbeing, but also because it leads to wiser choices and more kindness in this world.
Learn more about our vision, meet our team of international trainers and check out our beautiful locations.