In person
Location
MM81
Av. de Tervueren 81
1040 Etterbeek
Metro: Merode or Montgomery
Teacher
Sign up
Day of Nourishment: Grounding Yourself Amidst the Rush
A one-day retreat for people who already practice mindfulness or yoga and for everyone looking for some peace and calm. Sunday 25 September, from 10.00 to 16.30.
With mindfulness teacher Alena Reisinger

Come and take a pause with us and resource yourself from within with mindfulness. More than ever is important to prioritize self-care in these turbulent times. September can be a packed and stressful month for many of us. Paradoxically, practices like timing time out for ourselves, connecting with our needs, pausing and nourishing ourselves evaporate the quickest when we actually need them most
Benefit from a day in stillness and calm where guided mindfulness practices will help your busy and possibly anxious mind to come to rest. We will focus on grounding practices to quieten the mind and tap into the inner peace that is within all of us. This day can be a powerful energy boost, helping you to see more clearly what you need to flourish and cultivate the resources you need to deal with life's daily challenges. A day of mindfulness allows you to find a sense of peace in the midst of a busy and often stressful life.

It is an opportunity to refresh and deepen your practice. This can help you reconnect with meditation and boost your motivation to continue with it on a daily basis. You can also feel the benefit of meditating in a group (again).

We will practice a mix of different forms of meditation, mindful walking and stretching, to bring our mind to rest and ground ourselves in the here and now.
The day will mostly take place in silence, with English instructions given by the teacher. We also encourage you to refrain from using your phone.
Ideally, you already have some experience with mindfulness and/or yoga. If you are completely new to mindfulness or yoga, please get in touch with us at info@brusselsmindfulness.be.

Some benefits of a day of nourishment
Feeling more rested, relaxed and calm
Improving your focus and concentration
Gaining greater physical and psychological wellbeing
Deepening your mindfulness practice
Finding a new sense of inner freedom
Being able to see more clearly what really matters to you
Easing the voice of the inner critic and developing a kinder, more compassionate mind
Developing a sense of contentment and fulfilment
Feeling connected with and supported by a group of like-minded people
The Location
The day will take place at MM81, a beautiful and spacious Maison de maître between metro Merode and Montgomery on Avenue de Tervueren in Brussels. It also has a lovely garden with a pond. If the weather allows, we will do some outdoor practices in the beautiful garden.
Tea, coffee and snacks are available throughout the day. Please bring your own lunch as well as a yoga mat and blanket.

COVID19 Precautions
In order to ensure the health of all our participants, we will implement Covid measures according to the official regulations following the corona barometer at the time of the event. These measures will be communicated to registered participants prior to the start of the event.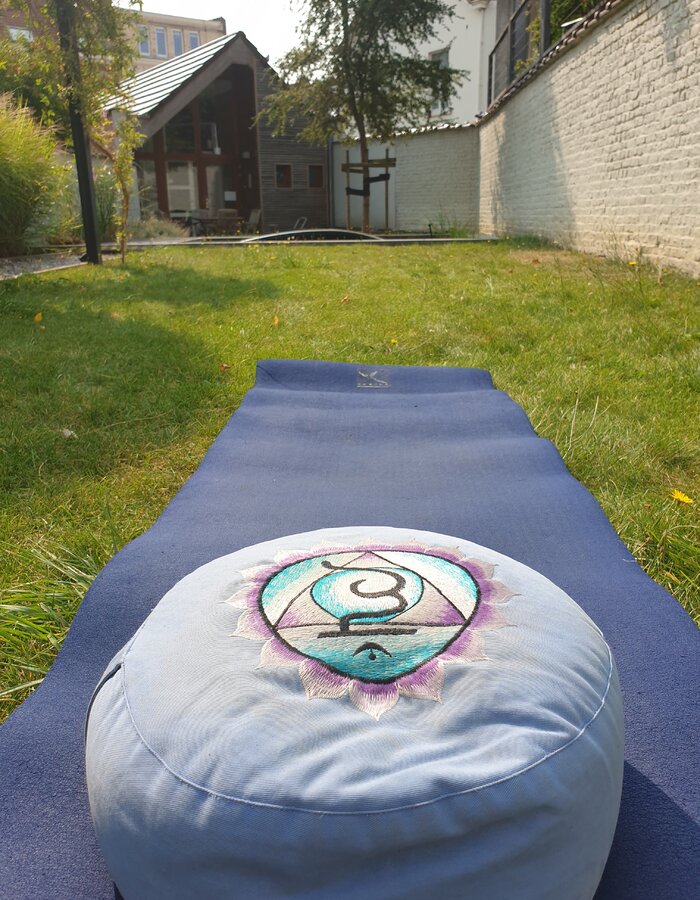 The programme
09.30 Arrivals
10.00 Introduction, mindful yoga and opening meditation
11.30 Tea meditation
11.45 Mindful walking and sitting meditation
13.00 Mindful lunch in silence (please bring your own lunch)
13.45 Outdoor session using all senses explore nature's beauty (if weather allows it), alternatively sitting and walking meditation
14.45 Tea meditation
15.00 Sitting meditation, gentle practices to end the silence and closing session
16.30 Departures
The Teacher
Alena Reisinger
Alena is a certified mindfulness teacher and coach, and is passionate about personal development. Participants especially like her warmth, kindness and creativity.
Rates
Day of Nourishment: € 99 (incl. VAT)
Tea breaks are included, but please bring your own lunch.
Registrations will close on Saturday 24 September at 17.00 CET, but we recommend registering immediately to avoid being on the waiting list.
Digital detox and silence
Throughout the day we will be practising digital detox to give our mind some rest. Please put your phone in flight mode or do not bring it at all so you are not tempted to check your messages. Please inform your relatives that you won't be reachable during this day (except in case of emergency).
For most of the day we will be in silence to deepen a feeling of rest and peace while being connected with the group.

Please fill out the form below in order to register for the Day of Nourishment. This information is important for the teacher to understand your motivation to participate.
All information you provide will be treated confidentially and will never be shared with third parties. We will get in touch with you if we have any questions, so please provide the phone number on which we can most easily reach you. Please check our privacy policy here.
Please check our terms & conditions about cancellations and refunds.

Do not hesitate to get in touch with us if you have any questions. For administrative and practical questions, please contact info@brusselsmindfulness.be. For questions about our courses and events, have a look at our FAQ.
If you want to discuss something directly with the teacher, you can contact Alena Reisinger via alena.reisinger@brusselsmindfulness.be.
Many thanks for your registration. We look forward to meeting you in the course.
Registration Form
You will be asked to fill out your name and further contact details in the next page.
Once you click the registration button, you will be taken to a secure payment system (first e-act.nl and then mollie.com). Your data will be treated confidentially and will not be shared with third parties, except for the information necessary to process the payment.