In person
Location
MM81
Av. de Tervueren 81
1040 Etterbeek
Metro: Merode or Montgomery

Teacher
Sign up
In-person 8-week course, Thursdays from 19.30 to 21.30 CET

Starting on February 3, 2022

Course dates: 3, 10, 17, 24 February; 10, 17, 24, 31 March. No session on 3 March
Location: MM81 (Avenue de Tervueren 81, 1040 Etterbeek)

Holiday action! Save €50 on 8-week courses until 31/12/2021.




8-week Heartfulness and Compassionate Living Course
with mindfulness teacher Steve Savels
For people who have already done an 8-week mindfulness course.
Being kinder to yourself, feeling more connected to others, having less fear of not being good enough, … Who wouldn't want that?
It's not often easy to achieve, even after having done an 8-week mindfulness course. In this follow-up course, you will take a deeper dive into mindfulness and compassion and how they can help you to find more happiness, connection and enjoyment.
The Mindfulness Based Compassionate Living (MBCL) programme presents a new way of facing the pressures of modern living by providing an antidote which teaches us how to cultivate kindness and compassion – starting with being kind to yourself.
In 8 weeks you will learn:
How to deepen mindfulness with "heartfulness": kindness and compassion towards others and towards yourself.
How your brain and organism have evolved to help you survive and how this affects your happiness.
How your emotion regulation systems work and how you can deal with them to find more safety, contentment and social connection.
How to deal with difficult and persistent emotions such as shame or guilt, and with your "inner bully".
This course is meant specifically for you if you have experienced benefit from mindfulness practice, but you find it difficult to develop a kind and friendly attitude in it and integrate it into your daily life.
The 8-week programme:
8 weekly group sessions of 2 hours.
Comprehensive manual with handouts and worksheets, and audio downloads to support your practice.
Lots of practical exercises to build mindfulness and heartfulness into your daily schedule.
Programme based on the scientifically validated Mindfulness Based Compassionate Living (MBCL) programme.
Course led by experienced and certified mindfulness trainer.
Beautiful and convenient location, easy to reach with public transport.
The location
The course will take place at MM81, a beautiful and spacious Maison de maître between metro Merode and Montgomery on Avenue de Tervueren in Brussels.
Covid-19 Precautions
In order to ensure everyone's health and safety, and until further notice, we ask that you provide a valid Covid Safe Ticket for our in-person activities. You will need to show this to the teacher upon arrival, otherwise you will not be allowed to participate.
There are 3 different types of certificates that prove you are Covid-safe:
A vaccination certificate proves that you have been fully vaccinated against the Covid-19 virus.
A test certificate proves that you have taken a negative Covid-19 test at the latest 48 hours before the start of the activity.
A recovery certificate shows that you have recovered from Covid-19 after a previous positive Covid-19 test.
You can find more information on how to get the Covid Safe Ticket here: covidsafe.be
This information is subject to change depending on the government guidelines at the time of the event.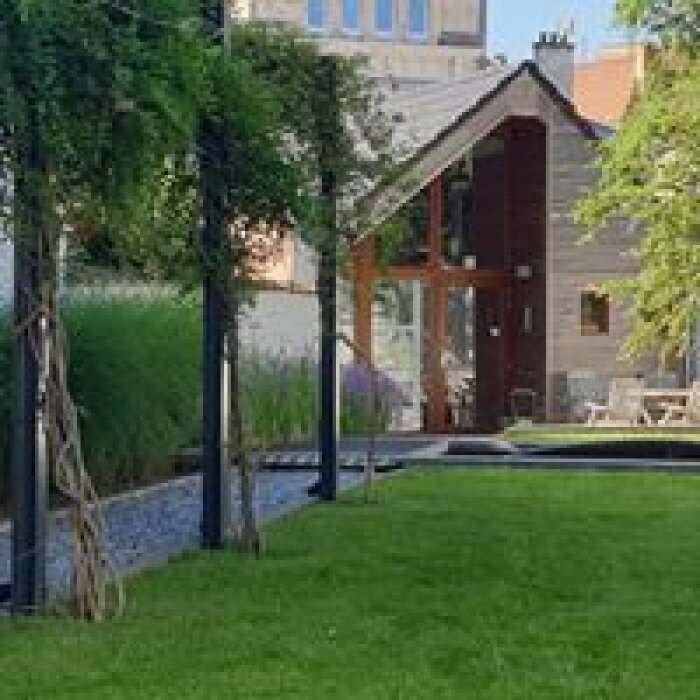 Practicalties
The course will be held in English
The sessions will be organised in our training centre MM81, in respect of the current Covid-19 rules
Small groups (maximum 12 participants)
No special clothes or meditation cushions needed
The teacher
Steve Savels is an experienced mindfulness teacher who has led many courses, retreats and days of mindfulness. People appreciate his gentle and calm style with lots of humour. He is also a certified teacher of the Mindfulness Based Compassionate Living (MBCL) programme.

Rate
This course is part of our holiday action! Save €50 until 31/12/2021.

€449 €399 (incl. VAT) for the 8-week heartfulness course, including:
Book, syllabus and audio downloads
Small groups in a beautiful location
During the 8 weeks, follow-up per email with more information and useful tips on how to integrate mindfulness into your life
Lifetime access for over 200 guided meditations and access to the podcasts by our teachers
Delicious teas at every session
Do not hesitate to get in touch with us if you have any questions. For administrative and practical questions, please contact info@brusselsmindfulness.be. For questions about our courses and events, have a look at our FAQ.
If you want to discuss something directly with the teacher, you can contact Steve Savels via steve.savels@brusselsmindfulness.be.
Many thanks for your registration. We look forward to meeting you in the event.

We encourage you to register as soon as possible to secure your place.
Please fill out the form below in order to register for the course. This information is important for the teacher to understand your motivation to participate. All information you provide will be treated confidentially and will never be shared with third parties. We will get in touch with you if we have any questions, so please provide the phone number on which we can most easily reach you. Please check our privacy policy here.
If your employer is willing to cover the cost of your course, please send us an email instead of registering via the website, so we can issue an invoice. If you have a diplomatic statute, please email us as well so we can issue an invoice without VAT.
If you have financial difficulties, but feel that participating to this course would help you, please contact us. We will find a solution together.
Several Belgian health insurances provide partial refunds for mindfulness courses. Please get in touch with your health insurance to find out about the procedure. We will be happy to fill in your form at the end of the course.
Please check our terms & conditions about cancellations and refunds.
Please note: It is important that you are in good physical and mental health in order to start a mindfulness course. Especially if you are suffering from acute depression or burnout, we recommend postponing the course until you feel better. If you have professional support by a doctor or psychotherapist, you may wish to consult them first and discuss your ability to participate. The trainers of Brussels Mindfulness are happy to discuss this with you on the phone; however, we cannot take any responsibility for your decision to participate in the course or not.
"The 8-week course was a real eye opener. I loved the coach as well as the group. Everything was done in an atmosphere of compassion and understanding. I feel like now I have this big toolbox that I can keep developing and digging into when I face stressful situations."

"I highly recommend Brussels Mindfulness! The teachers and approach were the right balance of providing a conceptual understanding, hands-on practice, personal and peer reflections and dialogue to understand and integrate what we learnt into who we are and what we do. The impact has been immediate and keeps on going - it is an investment that positively affects the foundations of self and holistic wellbeing!".

"I am now meditating every day! I found the course a good balance of theory, practical and sharing vs actually meditating."
"High quality teachers and extraordinary communication and pedagogical tools (handbook, to-the-point emails, languages, knowledge..). Extraordinary mindfulness course which should be a must for everyone .... impossible not to like it! Mindfulness attitudes so much needed in hectic times.... and delicious raisins (you will find out why)!"

Read more testimonials here and read a long reflection by one of our participants here.
Registration Form
You will be asked to fill out your name and further contact details in the next page.
Once you click the registration button, you will be taken to a secure payment system (first e-act.nl and then mollie.com). Your data will be treated confidentially and will not be shared with third parties, except for the information necessary to process the payment.