In person
Location
La Maison du Chemin des Roches
Centre pluraliste de méditation
Chemin des Roches 9
1370 Dongelberg
Teacher
Sign up
Finding inner peace
Friday 27 August to Sunday 29 August. Starting on Friday at 15.00, at the beautiful "Maison du Chemin des Roches" in Dongelberg.
With mindfulness teacher Beate Trück.

Would you like to take a break and recharge your batteries before the September rush? This silent retreat is open to everyone who is looking for some peace and reconnection with their purpose before life and work get busy again.
This retreat welcomes advanced meditators who would like to boost their mindfulness practice as well as beginners who are looking for an intensive format. Please note that this retreat qualifies as a prerequisite for the mindfulness teacher training.

This retreat will provide you with a deep immersion into mindfulness in order to find inner peace and mental space. It is a great opportunity to take care of yourself before the busy working season starts again. By practising mindfulness with a group of like-minded people you will be able to reconnect with yourself and what really matters in your life. You will learn how to tap into your inner calm, which is inherently present within everyone. By practising mindfulness meditation you will discover or deepen strategies to live a more conscious and connected life.

What does a retreat look like?
Being away from day-to-day demands and all the external chatter means time to reflect, to reconnect with your true self and with nature. When the part of you that wants to be in control and that is afraid of change is dominant, you are cut off from your deeper wisdom and intuition. But if you rest and create space to tap into your creative energy, you can get in touch with what truly matters and what kind of life you would really like to lead.
People have reported that long after the retreat they could still feel the benefits of it, and that this nourishing feeling goes on for quite a while. The retreat will be held in English. It will be partly in silence to deepen the healing power of mindfulness. At other moments, participants will be encouraged to share what they experience or – if they wish – to journal.

Would this be your first retreat? Have a look at our article about what happens on a mindfulness meditation retreat.

You will be enjoying
The alternation of formal practices such as siting and walking meditation

Daily yoga sessions

Practices for deep relaxation

Delicious organic vegetarian food that will support and nourish your body and mind

A beautiful and peaceful location

Free time to enjoy walks in nature or simply relaxing in the beautiful surroundings

A group of like-minded people with whom you can share experiences and grow together

Silence to encourage reflection and healing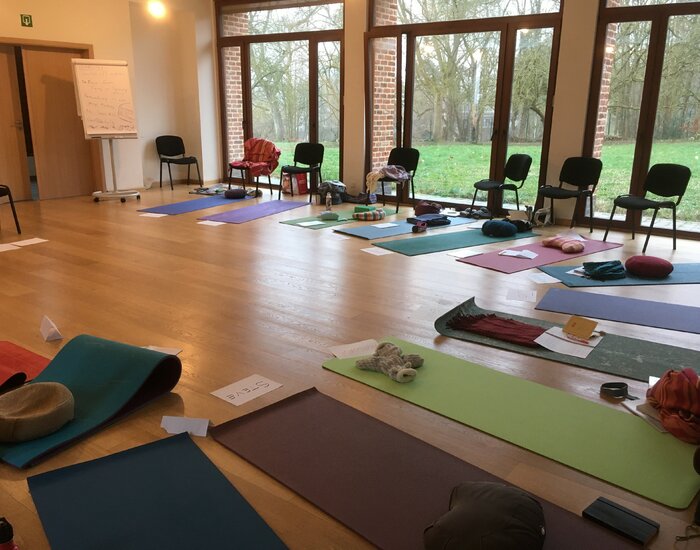 Some benefits of a mindfulness retreat
Tapping into your inner resources contributes to feeling more rested, relaxed and calm

Learning how to gain greater physical and psychological wellbeing

Powerful new insights to take back into your daily life in order to live more consciously

A new sense of inner freedom and the ability to see more clearly what really matters to you

Self-compassion and being on your own side

Having an idea of how to stop some unhelpful habits in your life and how to replace them by more useful ones

The ability to respond more skilfully to life's challenges when they arise

Finding a way to peace and wholeness in this busy, stressful world we live in
For whom?
This retreat is ideal for anyone who has followed a mindfulness course or has some experience with meditation or yoga and is looking for ways to deepen their practice. It is not recommended if you are currently suffering from depression or any other mental illness. Should you be in doubt, please contact the teacher before registering.
The venue
The retreat will take place in the beautiful "Maison du Chemin des Roches" in Dongelberg, about 30 minutes from Brussels.

The location is a haven of peace and calm, surrounded by many beautiful walks through the fields and woods. The cook will provide us with delicious vegetarian meals and refreshments will be available throughout the retreat.

The accommodation is in simple, but comfortable double rooms with shared bathrooms. There are single rooms available upon additional charge.

Carpooling will be facilitated before the retreat. Please note that we can only accept car pooling requests until one week before the start of the retreat and we simply try to put participants in touch with one another.
Covid-19 Precautions
To ensure your comfort and safety during our activities, we follow all recommended sanitary guidelines set by the government. Among others, we take the following health measures for in-person activities:
Small groups to allow enough space between participants

Amenities to wash and disinfect your hands regularly

Locations are cleaned and ventilated several times a day

Possibility for outdoor meditations whenever the weather allows it

Use of masks for indoor activities, in accordance with the local requirements

The teacher is fully vaccinated against Covid-19

Participants are required to stay at home when experiencing symptoms or when in situations that require respecting quarantine measures
Please note that we monitor any change in corona measures and apply them as soon as required by the authorities. This may require us to make changes to our planned events and courses. Should we be required to cancel the retreat, we will do our best to postpone the activity to a new date or provide you with a relevant alternative activity should you prefer this.

Given that we will be together for 3 days; eating, sleeping and meditating in the same spaces, we would like everybody in the group to feel secure. For this reason, we want to ask participants to take a PCR-test max 72 hours or a self-test max 24 hours before the start of the retreat, if you have not been vaccinated twice yet. Knowing that every member of the group is negative, will feel more comfortable for all. Please make sure to bring your proof, to be shown during the registration process.
The programme
Friday 27 August
14.00 - 15.00 Arrivals and registration
15.00 - 16.45 Opening session
16.45 - 17.30 Guided walking meditation
18.00 - 19.00 Dinner
19.30 - 21.00 Teaching, sharing & relaxation
Saturday 28 August
07.45 - 08.30 Mindful movement & meditation
08.30 - 09.30 Breakfast
10.00 - 10:45 Guided sitting meditation
10.45 - 11.15 Guided walking meditation
11.15 - 11.45 Tea/coffee
11.45 - 12.30 Teaching and meditation
12.30 - 13.30 Lunch
15.00 - 15.45 Guided sitting meditation
15.45 - 16.15 Silent walking meditation
16.15 - 16.30 Tea/coffee
16.30 - 17.15 Silent sitting meditation
18.30 - 19.30 Dinner
20.00 - 21.00 Meditation & relaxation
Sunday 29 August
07.45 - 08.30 Mindful movement & meditation
08.30 - 09.30 Breakfast
10.00 - 11.00 Teaching & sitting meditation
11.00 - 11.45 Silent walking meditation
12.30 - 13.30 Lunch
14.00 - 15.30 Sitting meditation & closing session
15.30 - 16.00 Departures
This is an indicative programme, the actual timing might change (except starting and end times). The final programme will be displayed at the location.
The teacher
Beate Trück is a certified and experienced mindfulness teacher (MBSR) and also a positive neuroplasticity teacher authorised by Dr. Rick Hanson. She has led many retreats to an international audience over the past years and is also responsible for the 2-year mindfulness teacher training at Brussels Mindfulness.
In her retreats she likes to combine mindfulness and positive neuroplasticity meditations which have a very calming and uplifting effect. Participants like her warm and inclusive style and some come back regularly to her retreats.
Extra: massages available
Jan Bosschem, physio and massage therapist will provide relaxing full body massages with hot aromatic oil on Saturday 28 August. The sessions will be offered at the rate of €70 for a session of one hour, on a first come first save basis. These massages offer a wonderful opportunity to deepen your relaxation and get more in touch with your body. You will receive more information about how to book a session in the practical mail sent shortly before the retreat.

Rates
Rate for the retreat of 2.5 days with meals and accommodation in a shared twin room:

'Early bird rate' - Until 29 July 2021: € 425 (incl. VAT)

As from 30 July 2021: € 475 (incl. VAT)

Included in the fee:

Teaching and administration fee

Accommodation in a double room with private bathrooms

All meals, coffee and tea breaks

Not included in the fee:

The rent of towels and sheets (preferably bring your own): € 15

Supplement charge for single room: € 25 per night. Please send us an email upon registration via info@brusselsmindfulness.be to request a single room. We will send you an additional invoice shortly before the start.

The massage

Meals

This retreat will offer vegetarian meals. Please note that we cannot cater for any other diets or allergies except of lactose and gluten free meals. Should you follow another diet or have any other allergy or intolerance, please bring your own food. In such cases, no partial refund can be granted.
Registrations will close on Wednesday 25 August or whenever the retreat is fully booked.

"The retreat was truly excellent. A wonderful location, a fantastic teacher, delicious food and a great group."
"The retreat flowed. It was definitively creating inner peace. Thank you!"
"Beate is really a great instructor. She has a sense for when to intervene, is clear in her guidance and has a warm voice."
"The retreat is very good in grounding oneself in this fast-paced environment. I unreservedly recommend it!"
"The location, schedule and teacher created an optimal environment for me to get my mind set to meditation. A wonderful and intense experience which may have lasted longer - but two days is a good start!"
"The retreat allowed me to settle my mind, to feel safe and supported. The place was ideal to relax and practice."
Read more testimonials here.

Please fill out the form below in order to register for the retreat. Your answers are important for the trainer to understand your motivation to participate.
All information you provide will be treated confidentially and will never be shared with third parties. We will get in touch with you if we have any questions, so please provide the phone number on which we can most easily reach you. Please check our privacy policy here.
Please check our terms & conditions about cancellations and refunds.

Do not hesitate to get in touch with us if you have any questions. For administrative and practical questions, please contact info@brusselsmindfulness.be. For questions about our courses and events, have a look at our FAQ.
If you want to discuss something directly with the teacher, you can contact Beate Trück via beate.trueck@brusselsmindfulness.be.
Many thanks for your registration. We look forward to meeting you in the course.
Registration Form
You will be asked to fill out your name and further contact details in the next page.
Once you click the registration button, you will be taken to a secure payment system (first e-act.nl and then mollie.com). Your data will be treated confidentially and will not be shared with third parties, except for the information necessary to process the payment.